Free Standing Stoves
A free-standing stove is a fully contained appliance. It sits inside your home on a finished floor or hearth and is designed to provide both heat and ambiance. Stoves must vent to outside the building envelope. Gas and pellet stoves can be vented both horizontally (with a vent cap visible on the side of the house) or vertically up through a roof. Wood stoves must have venting that extends up above the finished roof line. Stoves can also be vented up through existing fireplaces.
Stoves are an excellent source of heat whether placed in a new home or added to an existing home as a retrofit. Simply choose your location and bring fuel to the location with a gas line or an electric outlet for a pellet stove. Before installation, confirm that you have the appropriate clearances and flooring requirements.
Free Standing Stove
Added to a room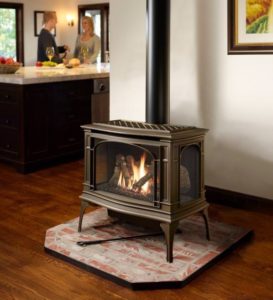 Vented into a fireplace