Wood Mantels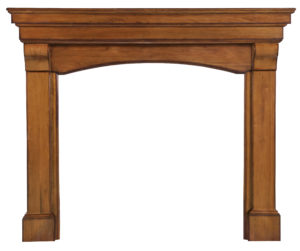 Timing & Scheduling
Install the fireplace
Finish the hearth since it must be in place prior to installation. The mantel legs will rest on the hearth.
 Finish the fireplace wall unless your material butts up to the mantel instead of the mantel overlapping.
Install the mantel
Painting or staining the mantel will be done before or after installation depending upon the project. For filler pieces between the mantel and fireplace opening, see below.
Hearth
Typically, the bottom of the hearth finishes to the bottom of the fireplace. In some cases, the hearth can encroach on the bottom of the fireplace up to 1". If using a manufactured fireplace, consult the fireplace installation manual for details. Hearth depth is 18" for a wood burning fireplace and varies for dedicated gas units. If you want to have a raised hearth for sitting, the typical height from the finished floor is 16-18".
Filler Materials
Wood mantels requires non-combustible materials around the fireplace opening. If the materials are smooth and the mantel overlaps them (such as cement board or tile), they are typically applied prior to the mantel. If the materials are rough, such as ledgestone, they are applied after the fireplace mantel and butt up to the insides of the legs and cap.
Decor & Style
Mantels can be simple and modern, or ornate. Stains or paint finishes should be chosen to complement the room. Mantels are often incorporated into surrounding shelving or entertainment centers.
Clearances
Wood mantels must meet clearance requirements. Custom masonry fireplaces typically require 12" from the fireplace opening to the underside of the mantel and 8" away from the right and left openings for the legs. These guidelines can vary depending upon the fireplace opening, size, and local codes. Consult the installation manual for clearances to manufactured fireplaces.