Precast Mantel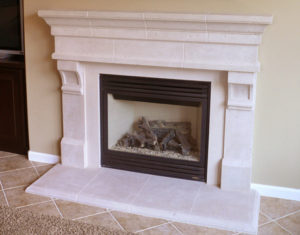 Timing & Scheduling
Install the fireplace
Finish the hearth since it must be in place prior to installation. The mantel legs will rest on the hearth.
 Finish the fireplace wall unless your material butts up to the mantel instead of the mantel overlapping.
Install the mantel
Paint or seal mantel
Hearth
Typically, the bottom of the hearth finishes to the bottom of the fireplace. In some cases, the hearth can encroach on the bottom of the fireplace up to 1". If using a manufactured fireplace, consult the fireplace installation manual for details. Hearth depth is 18" for a wood burning fireplace and varies for dedicated gas units. If you want to have a raised hearth for sitting, the typical height from the finished floor is 16-18".
Filler Materials
The space between the mantel legs, cap, and fireplace opening must be filled with non-combustible materials as well. Most pre-cast mantel providers offer sheets of the mantel material called "filler panels," matching the color and finish of the mantel as an option. You can also use tile, ledge stone or other materials. Typically, the mantel goes in first and filler materials are applied after the fireplace mantel and butt up to the insides of the legs and cap.
Decor & Style
Mantels can be simple and modern, or ornate. Paint grade mantels have the advantage of being easily repaint-able. The traverstone / cement look is very popular as well.
Clearances
Pre-cast mantels can offer closer fireplace clearances. Consult the fireplace installation manual. Even when clearances closer than the rule of thumb guidelines (12" above and 6" to the sides) are allowed, be advised that mantel temperatures can damage items such as candles or artwork on the mantel shelf and the mantel itself can crack.