Mantel Shelf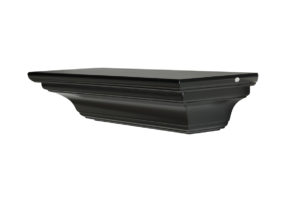 Timing & Scheduling
A mantel shelf can attach to a finished wall via a mounting bracket. However, it can also be installed prior to finishing with finished materials butting up to it. If the mantel is heavy, backing material should be installed in the wall and dowels or brackets should be fixed in place.
Decor & Style
A mantel shelf can be added at any time to a finished wall as long as the wall surface is smooth enough to allow attachment. Shelves can be modern or traditional, combustible or non-combustible. Tile might be added from the shelf down or cover the entire wall.
Clearances
Mantel shelves must be installed to meet fireplace or fireplace insert clearances. Generally, with a manufactured fireplace, the underside of a mantel shelf will be 12" above the fireplace opening. Consult local codes and installation manuals for requirements.